Vegan Shepherd's Pie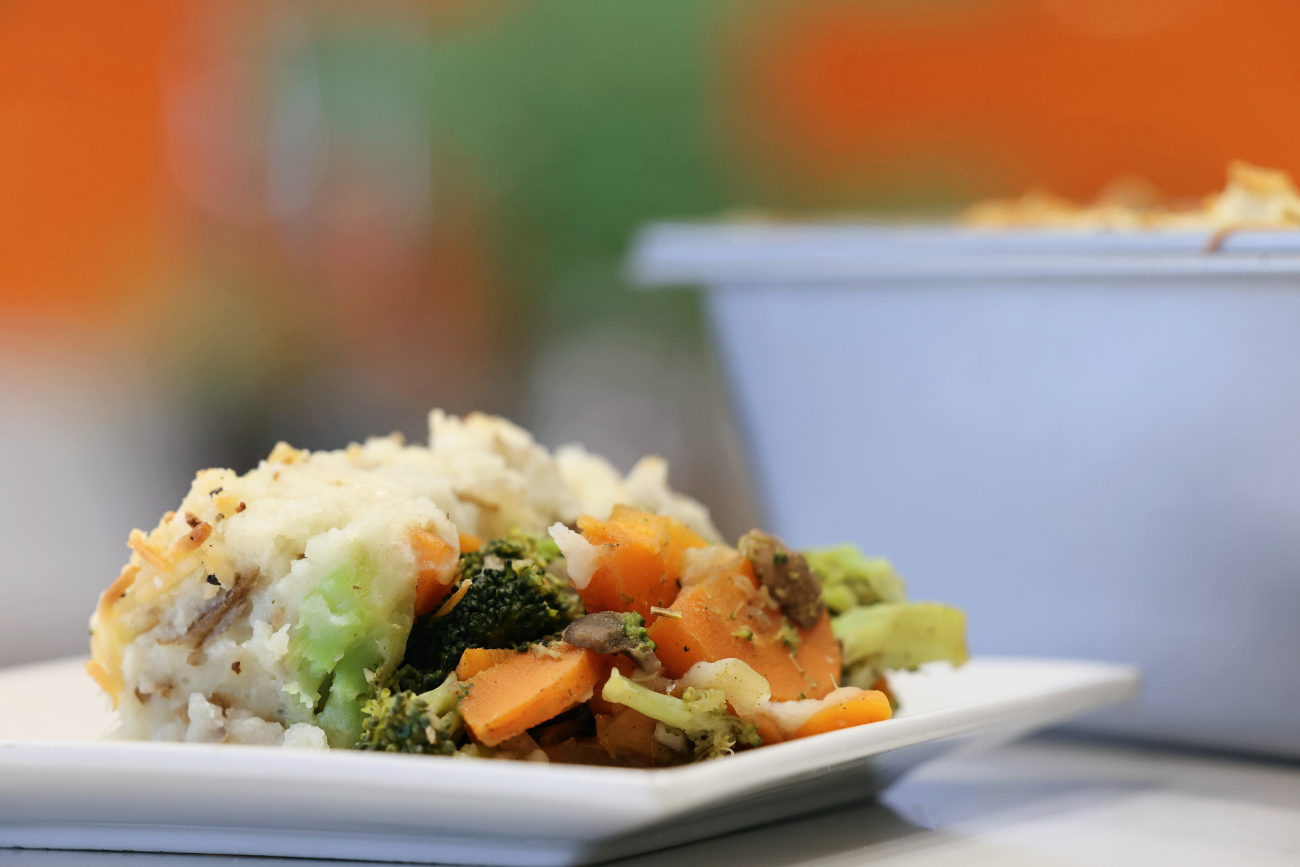 This affordable vegan version of the classic dish shepherd's pie is heavy on nutrition and flavor!
Ingredients
Mashed Potato Topping
4-5 Michigan potatoes (russet, yellow or red)
8-10 cloves, finely minced
1/2 can coconut milk
1 tsp pink Himalayan sea salt
Saltless pepper blend, to taste
5 Tbsp plant-based butter (or regular butter for non-vegan version)
Vegan Parmesan (or cheese or your choice)
1 bundle parsley, chopped
Filling
1 head fresh broccoli
2 carrots
1/2 red onion
2 cloves garlic, minced
1/4 tsp ground cumin
1/4 tsp rosemary
Preparation
Preheat oven to 425 degrees F.
Fill a pot with water to completely cover Michigan potatoes. Boil, skin on, until soft; it can take up to 20 minutes depending on the size of potatoes. You can test their softness with a fork; it should go through easily.
While the potatoes are boiling, chop carrots into small coins. If carrots are larger, slice them in half and then into half-moons. Place carrots in a pan and sauté with water. Next chop broccoli head into small pieces and add to the pan to sauté. Dice your onion and add to pan. Let them all sauté until the carrots are a bit tender. Then add in cumin, rosemary and garlic. Once everything is sauteed nicely and flavorful, let sit until the potatoes are done.
Once the potatoes are done, strain, and put the potatoes back in the pot and start mashing. You can determine how smooth or lumpy you want your potatoes to be. Add the coconut milk, salt and pepper blend. The potatoes will become creamier. Next, add your garlic and butter. Stir/whip to your liking.
Line a casserole dish or pan with filling. Top with mashed potatoes. Place in preheated over for 10-15 minutes. To goal is not to cook, but to heat through and get the top brown and crispy, which will seal in all the flavors.
Once done, take it out of the oven and allow it to sit for about 5-10 minutes. Plate dish and top with fresh parmesan and parsley. Get ready to have all of your tastebuds satisfied!