Michigan Potatoes Deliver The Nutrition You're Looking For
Michigan Potatoes
By The Numbers:
110 calories

45% daily value of vitamin C

620 mg of potassium

0 fat

0 cholesterol

Naturally Gluten Free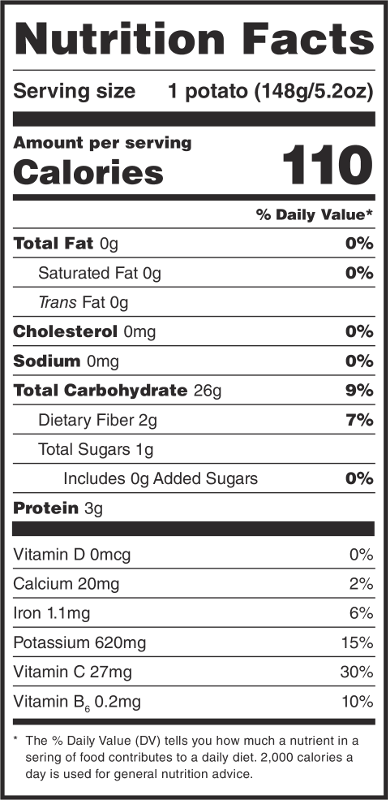 Potassium
Potatoes are a potassium powerhouse! One serving of potatoes can provide 18% of the DV for potassium – meaning it is an excellent source of this key nutrient. A medium potato has significantly more potassium than a medium banana (420 mg.), often touted for its potassium content, and much more per serving than other produce items, including broccoli at 460mg and sweet potatoes at 440mg
Vitamin C
The vitamin C content of a medium potato is about 27 milligrams – or 45% of the DV, making it an excellent source of this key antioxidant that is also thought to support immune system health.
This means that a medium potato has about the same vitamin C as a medium tangerine and a bit more than a medium tomato. It is also a good reason to cook potatoes in their skins, to retain as much vitamin C and other water-soluble vitamins as possible.
Fiber
Most Americans eat only half the recommended amount of daily fiber. Supplying 8% of the Daily Value (DV) for fiber, a medium potato has about the same amount of fiber as 1/2 grapefruit or 1 raw carrot and much more than most leafy vegetables. Many people think of the skin as the high fiber portion of the potato; however, about two-thirds of the total fiber content is inside, in the delicious flesh of the potato!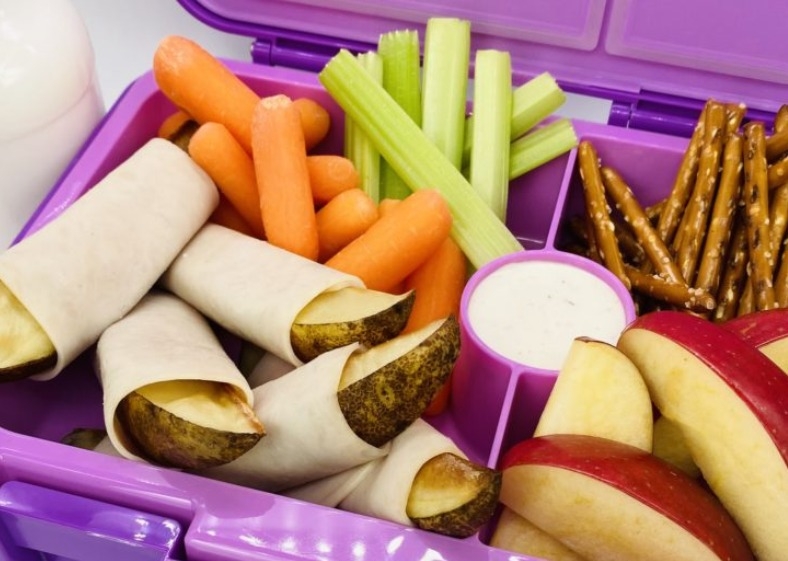 School Foodservice
Potatoes are America's Favorite Vegetable and can help provide students with the nutrients and energy they need to do their best during the school day. Learn why potatoes are not only delicious, but also a cost-effective and nutritious addition to the school menu. Find helpful resources and delicious potato recipes to the menu. This recipe collection features high-quality operator submissions for breakfast, lunch, after school, and salad bar occasions, all standardized to meet USDA meal requirements.
Michigan Potatoes Power Performance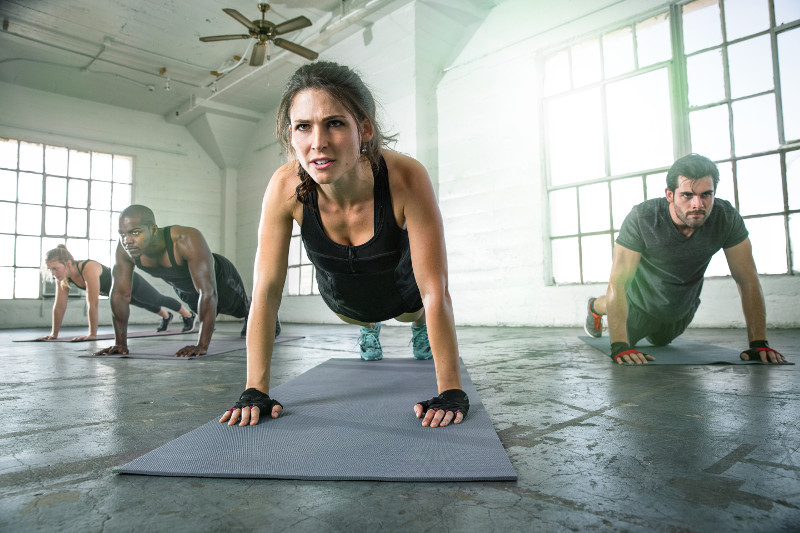 It's all about how you fuel and Michigan potatoes provide the complex carbohydrates, potassium, fiber and vitamin C you need to perform better than ever before.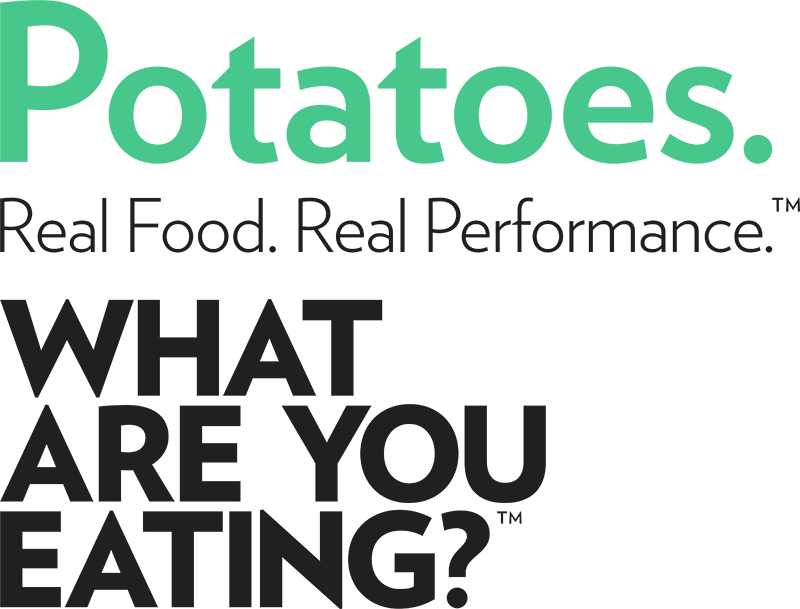 A By-The-Numbers Look At How Potatoes Power Athletic Performance
26 grams of carbohydrate: Count on the quality carbs in potatoes for optimal mental and physical performance. Plus, potatoes contain as much if not more of several essential vitamins and minerals than spaghetti, brown rice or whole wheat bread (compared on a per-serving basis).
620 Milligrams of Potassium: With more potassium than a medium-sized banana, potatoes are perfect for aiding muscle, cardiovascular and nervous system function during long endurance events.
110 Calories for Energy: Easily digestible and more energy-dense than any other popular vegetable, potatoes are a good choice to fuel the demands of racing a triathlon.

Become a Subscriber
Get recipes, nutritional info, and potato-related news delivered to your inbox with our monthly newsletter.