Southwest Potato Power Bowl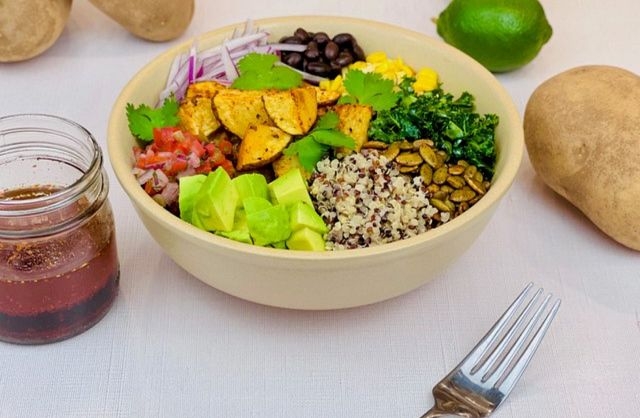 A nutrient-packed bowl concept with garlic and paprika roasted diced russet potatoes accompanied with steamed quinoa, chopped fresh vegetables and roasted seeds, tangy Pico de Gallo, garnished with cilantro drizzled with a chili lime vinaigrette.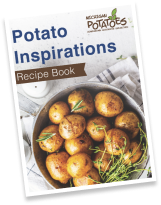 Like this recipe? Want more?
Check out our recipe book.
DOWNLOAD NOW
Categories
Ingredients
2 medium-sized russet potatoes (about 300 grams), chopped
2 Tbsp garlic, chopped
1 Tbsp ground paprika
2 tsp salt
3 Tbsp olive oil
1 tsp black pepper
2/3 cup (120 grams) quinoa
1-1/3 cup water
1 cup yellow corn
1 cup kale, chopped
1/2 cup red onion, sliced
1/2 cup black beans, cooked (or canned)
1 cup Pico de Gallo
2 medium-sized avocados, chopped
1/2 cup (59 grams) pumpkin seeds
1 Tbsp chili powder
1/2 cup cilantro, to garnish
Chili Lime Dressing
1/2 cup (118 ml) olive oil
1/2 cup lime juice
1 Tbsp chili lime seasoning
Preparation
Preheat oven to 400°F (204°C). Line a baking sheet with parchment paper. Wash the potatoes well and dry them. Cut them into 1/2" chunks. Place the cut potatoes in a large bowl. Add 1 Tbsp olive oil, salt, garlic, paprika, and black pepper. Toss well until all the potatoes are well coated. Transfer the potatoes to the lined baking sheet, making sure you also pour on the any oil and liquid remaining at the bottom of the bowl. Bake for 30 minutes or until the potatoes are tender. Set aside.
In a bowl, pour pumpkin seeds, 1 Tbsp oil and chili powder and mix until coated evenly. Place in parchment lined baking sheet and roast pumpkin seeds in 400°F (204°C) for 5-6 minutes. Remove tray and cool.
Rinse and strain quinoa with a strainer, shake excess water, then in a pot, add water and quinoa bring to boil then cover, reduce heat and simmer for 25 minutes. Then fluff with fork.
Rinse black beans and drain using a strainer. Set aside.
To make dressing, in a bowl, whisk together olive oil, lime juice and chili lime seasoning until emulsified.
To assemble, in a bowl, scoop roasted potatoes, quinoa, corn, black beans, Pico de Gallo, red onions, roasted pumpkin seeds and avocado side by side, drizzle vinaigrette over and garnish with cilantro leaves and serve.