Roasted Rosemary Potatoes with Goat Cheese and Marinated Tomatoes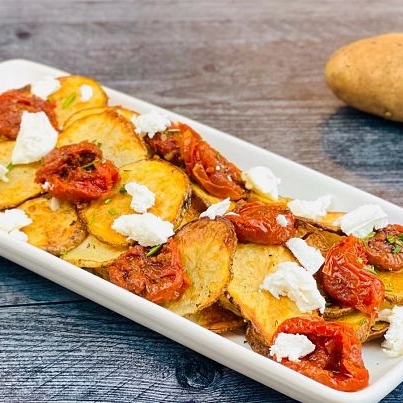 This recipe features layers of Italian cuisine flavors, including basil, rosemary, and red wine vinegar. It's fresh and vibrant!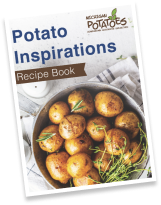 Like this recipe? Want more?
Check out our recipe book.
DOWNLOAD NOW
Categories
Ingredients
Marinated Tomatoes
16 ounces (454 g) cherry tomatoes
1 Tbsp canola oil
4 cloves garlic, chopped
2 tsp Italian seasoning
1 tsp red wine vinegar
1 spring of basil (optional)
Enough olive oil to cover tomatoes in jar (see instruction item #2)
Rosemary Potatoes
4 medium-sized russet potatoes, sliced 1/4-inch thick
3 tsp rosemary, freshly chopped
2 tsp fine sea salt
2 Tbsp olive oil
1 tsp black pepper, freshly cracked
4 ounces crumbled goat cheese, to garnish (optional)
Preparation
Preheat oven to 425 F (218 C).
To make the tomatoes, which can be made any time in advance, toss the tomatoes in the canola oil and garlic. Place them on a baking sheet and bake for about 10-12 minutes, they should begin to burst a little and get slightly charred. Remove from the oven and sprinkle with the Italian seasoning and red wine vinegar.
Consolidate the tomatoes into a small jar or crock and nestle the basil into the center of the container. Pour enough olive oil over the tomatoes to cover and set aside at room temp until ready to use. If making this well in advance be sure to store the tomatoes in the refrigerator (should last 7-10 days).
In a large bowl toss the potato slices with the olive oil, sea salt, and black pepper. Place in a single layer onto a baking sheet lined with aluminum foil or parchment paper. Place in the oven and bake for 20-25 minutes or until golden and crispy on the outside. Remove from the oven and sprinkle immediately with the chopped rosemary.
To serve arrange the crispy, hot potatoes on a plate/platter and top with some of the roasted tomatoes. Top with the crumbled goat cheese and serve.