Potato Flatbread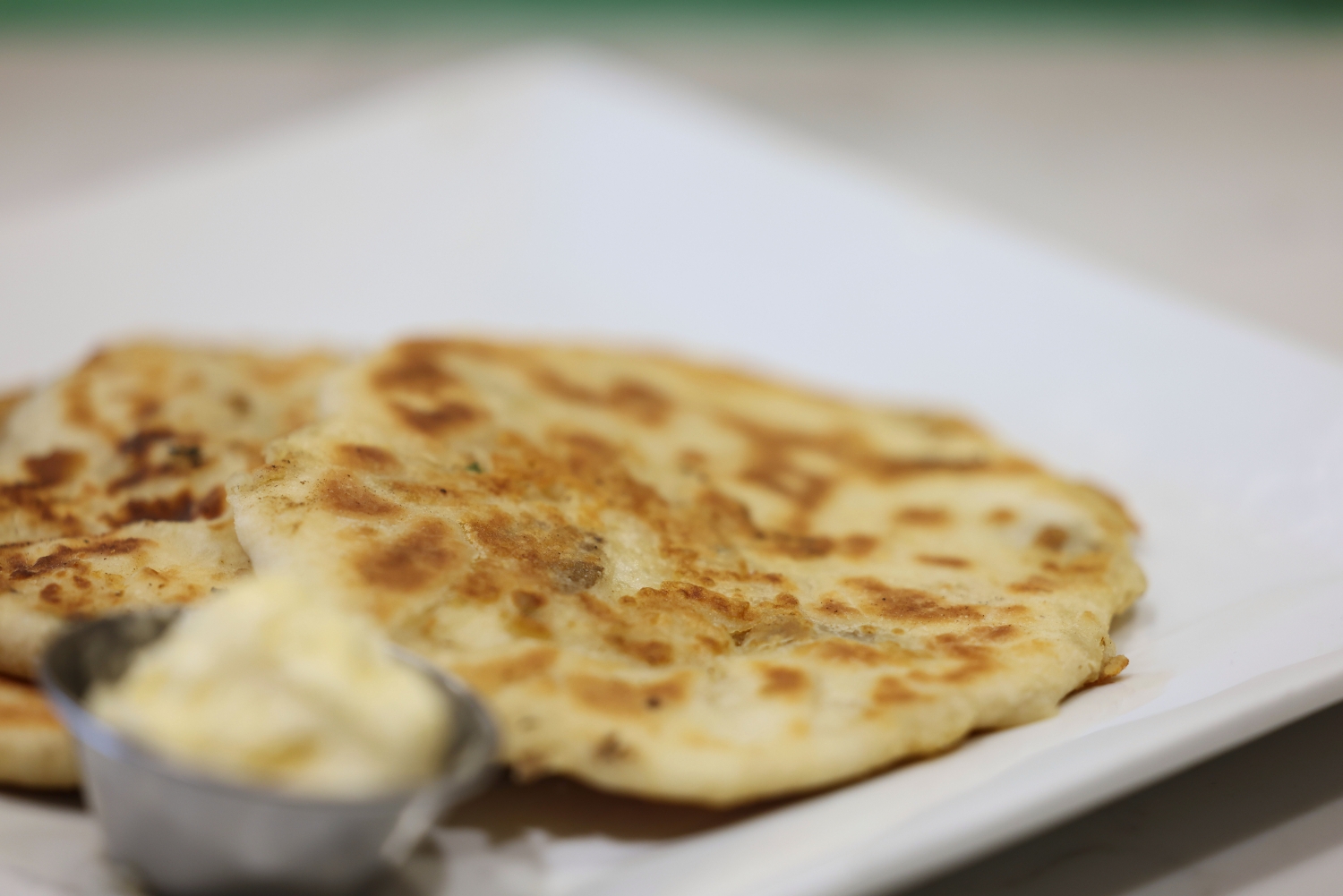 This flavorful potato flatbread can be used for sandwiches or wraps, or simply as a side dish or snack.
Ingredients
Bread
2 cups flour (King Arthurs will make it gluten-free)
1 tsp baking powder
1/2 tsp salt
8 Tbsp butter (one stick) + 2 Tbsp for frying
1/4 cup dairy-free milk (or milk of your choice)
Filling
3-4 Michigan potatoes
1/4 tsp coriander
1/4 tsp cumin
1/2 tsp parsley
1/2 tsp chives
Preparation
Bread
Add all dry ingredients to mixing bowl. Rub 8 Tbsp of butter into the flour mixture thoroughly.
Add milk. Mix together until mixture becomes doughy. It should be light and fluffy. If too dry, add small amounts of milk until it turns into a nice dough ball.
Place dough ball in the mixing bowl, cover with saran wrap and allow it to rest for 20 to 30 minutes while working on the potato filling.
Filling
Fill a pot with enough water to cover potatoes. Boil, skin on, until soft. This can take up to 20 minutes depending on the size of potatoes.
Once cooked, strain potatoes. Remove skin, if desired, but not necessary. Mash potatoes with masher and then add dry seasonings. Mix thoroughly. Form mixture into eight balls.
Cut dough into eight balls. Roll each into 2-inch circles. Place eight filling portions into the eight circles of dough. Close to make dumplings.
Use a rolling pin to roll the dumplings to make to desired thickness.
In a frying pan or griddle, lightly butter the pan and place potato bread on the pan until it browns (about one minute). Lightly butter pan and flip bread until brown on reverse side. Repeat for remaining flatbread portions.
Once finished, potato flatbread can be used for sandwiches, wraps or anything else you'd like.