Yucatan Chicken and Potato Soup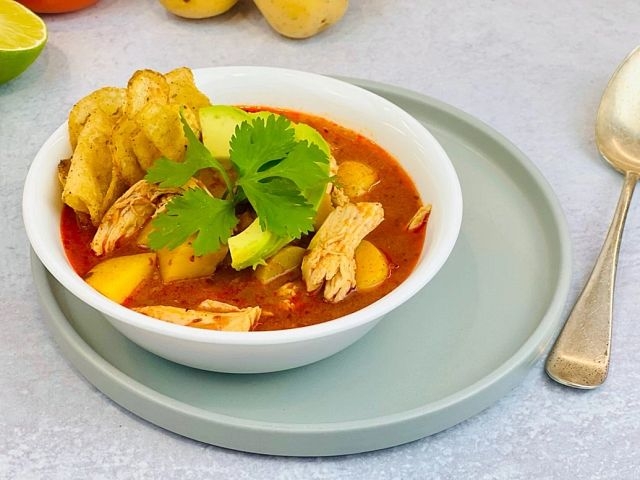 Tender rotisserie chicken and slow simmered potatoes in a fragrant chili-lime chicken broth topped with crunchy jalapeno kettle chips and avocado.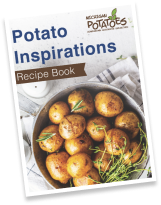 Like this recipe? Want more?
Check out our recipe book.
DOWNLOAD NOW
Categories
Ingredients
For the Soup
2 Tbsp (30 ml) olive oil
1 cup (150 grams) yellow onion, sliced
1/4 cup (40 grams) garlic, chopped
2 Tbsp (15 grams) smoked paprika
2 Tbsp chili powder
1 Tbsp (8 grams) ground cumin
1 tsp (3 grams) cayenne pepper (optional)
1/2 Tbsp (4 grams) dried oregano (Mexican oregano is preferred, but Italian can be subbed)
2 quarts (1.9 liters) chicken stock or broth
1 14-ounce can fire-roasted diced tomatoes
1 Tbsp sea salt
2 tsp freshly ground black pepper
1-1/2 pounds rotisserie chicken meat
3/4 cup (180 ml) freshly squeezed lime juice
1 pound (454 grams) yellow potatoes (red or white can be subbed), cut into 1-inch chunks
Garnish (optional)
Cilantro sprigs
Jalapeno-flavored kettle potato chips
Sliced avocado
Preparation
In a large heavy bottomed pot over medium high heat, add the olive oil and being cooking the onions. When the onions are translucent and just starting to brown (about 2-3 minutes), add the garlic and cook for about 1-2 minutes longer.
Add the smoked paprika, chili powder, cayenne, cumin, and oregano and cook for about 30 seconds to a minute, this will cook some of the raw flavor out of the spices.
Immediately add the chicken stock/broth, tomatoes, potatoes, salt, and pepper.
Allow the soup to come to a boil and then reduce the heat until it is at a simmer. Cook the soup until the potatoes are tender about 15-20 minutes.
Once the potatoes are tender. Add the shredded meat from the rotisserie chicken and the lime juice. Stir to combine, and taste the soup to adjust for any seasoning.
To serve the soup, ladle some into a bowl and top with kettle chips, avocado, or cilantro, if desired.