Potato Papusas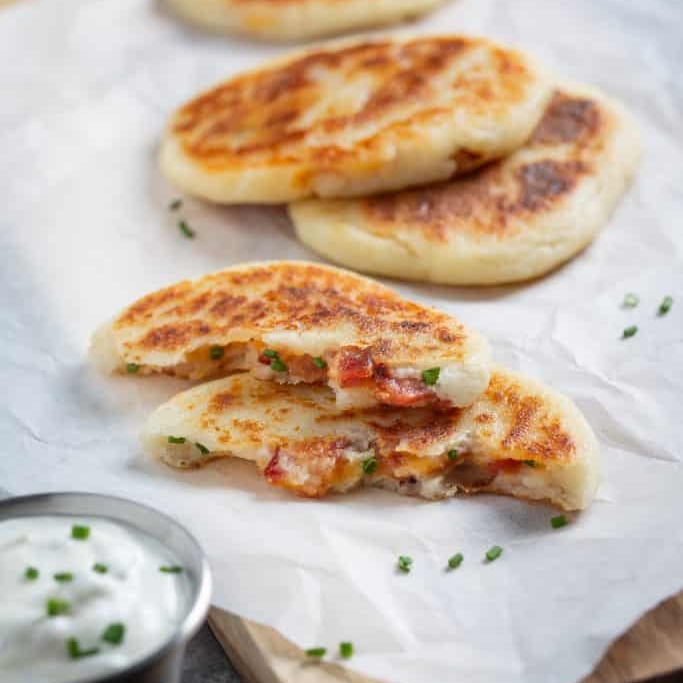 Pack a meal into one hand with potatoes. This versatile dish plays across all global cuisines and can be enjoyed at any day part. Utilizing potatoes with the masa flour creates a gluten-free substitute. Create meal time favorites using potato flakes or left over mash potatoes and switch up the filling with your favorite flavors.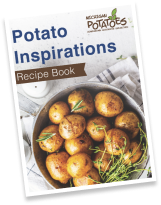 Like this recipe? Want more?
Check out our recipe book.
DOWNLOAD NOW
Categories
Ingredients
Dough
2 cups Masa Flour
4 cups Potato Flakes
4 cups Hot Water
1 TBSP Salt, Kosher
1 cup Warm Water
1/3 cup Vegetable Oil
Filling (per 2oz dough ball)
1 TBSP (2lbs total) Cooked Bacon, 1/4" Dice
1 TBSP (2lbs total) Sharp Cheddar Cheese, Fine Shred
Chive Sour Cream
As Needed Sour Cream
As Needed Chives, sliced very thin
Preparation
Dough Recipe Directions
Place all dry ingredients in the bowl of a stand mixer with paddle attachment.

On low speed, combine all dry ingredients.
Slowly add water on low speed until dough forms. Dough should be thick and sticky.
Assembly Recipe Directions
Make water & oil mixture. Coat your hands well with it. This will prevent the dough from sticking to your hands and will hydrate the dough as you assemble.
Divide dough into 26ea/2oz balls, by weight. Keep them covered with a damp towel so they don't dry out.
Place a ball in the palm of your hand, and with the thumb of your other hand, make an indentation in the center of the ball. Pinch sides up a bit to make a well for the filling.
Add filling, and pinch dough around filling to enclose. Gently flatten by hand out to a 4" disc. Repeat for the remaining dough balls.
Cook pupusas in a large cast iron skillet or griddle over medium heat until center slightly puffs up and pupusa is browned in spots and crispy on the outside.
Serve hot with a side of sour cream garnished with chives.