Summer Potato, Fennel, and Smoked Salmon Chowder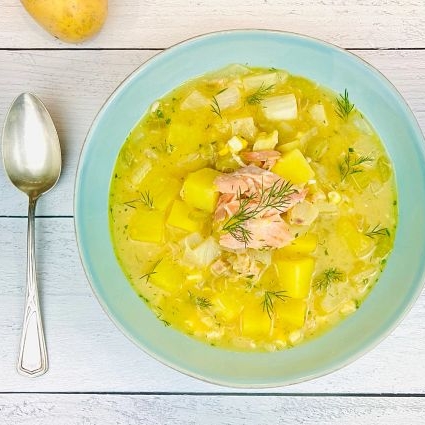 A light zesty summer broth made with yellow potatoes and crisp fennel flavored with lemon zest and dill garnished with juicy pieces of smoked salmon.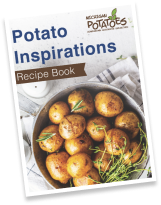 Like this recipe? Want more?
Check out our recipe book.
DOWNLOAD NOW
Categories
Ingredients
4 cups (558 g) yellow potatoes, cubed
1-1/2 cups (115 g) fennel, chopped
2 cups frozen corn
3 Tbsp olive oil
1-1/2 cups white onion, diced
1 cup celery, diced
2 Tbsp (12 g) lemon zest
1/4 cup lemon juice
2 quarts (1.9 liters) vegetable stock
1 14-ounce can cream of celery soup
1/2 Tbsp ground black pepper
2 Tbsp dill fronds
6 ounces (170 g) smoked salmon
Preparation
In a large pot, on medium high heat, add olive oil then sauté onions and fennel for 2 minutes, then add in yellow potatoes, salt and pepper sauté for another 2 minutes, then add in vegetable stock, cream of celery, lemon zest, celery, corn, and bring to a boil and then reduce heat to a simmer and cook until potatoes are fully cooked or fork tender for about 40 minutes. Then finish with lemon juice and lightly stir to combine.
To serve, ladle soup into a bowl then garnish with smoked salmon chunks and dill fronds. Exclude smoked salmon to keep vegetarian.