Sour Cream and Onion Potato Chip Gnocchi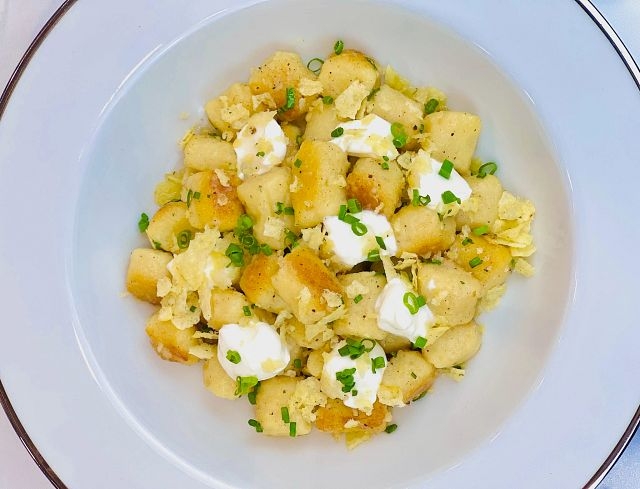 Light and pillowy potato dumplings made from sour cream and onion potato chips then topped with chives, chips, and sour cream.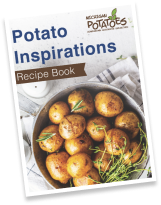 Like this recipe? Want more?
Check out our recipe book.
DOWNLOAD NOW
Categories
Ingredients
Potato Dumpling Dough
750 ml (26.4 ounces) water
12.5 ounces (354 grams) sour cream and onion potato chips, crushed
3 large eggs
10 grams kosher salt
1-1/4 cup (200 grams) all-purpose flour
For the Gnocchi
2 Tbsp (30 grams) clarified butter or ghee
1 Tbsp (15 grams) unsalted butter, softened
2 tsp (6 grams) maldon salt
1/2 tsp (1 gram) freshly ground black pepper
Crushed sour cream and onion potato chips
1/3 cup (80 grams) sour cream (or crème fraiche)
1/4 cup (8 grams) freshly chopped chives
Preparation
Bring the water to a boil in a large pot, add the potato chips all at once and stir to combine. As soon as the potato chips are hydrated and have absorbed the water turn the heat off. Transfer the chips to a high-speed blender and puree until smooth (use the tamper to ensure everything is well mixed). Transfer the puree to a large bowl and allow to cool slightly.
Add the eggs and the salt to the puree and stir well to combine.
Gradually add the flour to the puree while gently folding it with a rubber spatula (You may not need all the flour depending on the environment). The mixture should resemble a thick batter but should not be gluey. Transfer the batter to a pastry bag fitted with a round tip.
Bring a large pot of water to a boil, then reduce to a simmer.
Squeeze the pastry bag over the water and cut the gnocchi into 1-inch pieces, dipping the tip of your cutting instrument into the hot water every 10 pieces or so.
When the gnocchi are done, they will float. Shock them in cold water then immediately transfer to a lightly oiled sheet pan. Once the gnocchi are cooled, they can be sauteed or even frozen on a sheet pan then transferred to a freezer bag.
To sauté the gnocchi and finish the dish, heat a non-stick pan over medium high heat. Add in 2 tablespoons of clarified butter and add enough gnocchi to cover the bottom of the pan. Allow the gnocchi to get golden brown for 1-2 minutes before shaking the pan. Sauté the gnocchi until they are golden all around.
Season with salt, pepper, and fresh chives.
Add a tablespoon of whole butter if desired and toss until well coated. Transfer the gnocchi to a serving bowl. Top the gnocchi with little dollops of sour cream or crème fraiche, crushed potato chips, and more chives. Serve immediately.