Easy Michigan Potatoes Gnocchi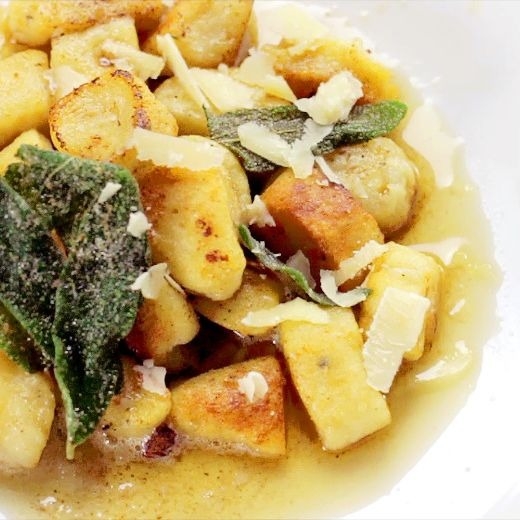 You don't need to be an Italian grandmother to master this super and simply delicious potato gnocchi made with 100% Michigan Potatoes!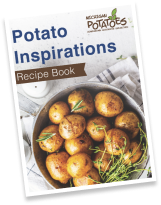 Like this recipe? Want more?
Check out our recipe book.
DOWNLOAD NOW
Categories
Ingredients
2lbs Michigan Russet Potatoes
1 large egg
1 teaspoon kosher salt
Pepper to taste
¼ teaspoon freshly grated nutmeg
4oz freshly grated parmesan cheese
2 cups all purpose flour
Preparation
Bake Michigan Russet Potatoes in a 375 degree oven until soft (approx. 45min) then let cool.
Scrape potatoes into a bowl and discard skins, mash thoroughly.
In a separate bowl combine egg, salt, pepper and nutmeg; mix to combine.
Place mashed potato mixture onto a lightly floured surface and shape into a mound, create a well in the center and pour in egg mixture and parmesan cheese.
Add ½ the flour and knead gently adding remaining flour until a dough is formed.
Bring approximately 6 quarts of salted water to a boil while completing the next steps.
Divide dough into 4 equal portions, create an approximately ½" "rope" with each section.
With a chef's knife or pastry cutter cut along each rope in ½" increments to form the gnocchi. Lightly dust gnocchi with flour.
Boil gnocchi for approximately 1-2 minutes or they start to float, remove and set aside. Gnocchi may need to be boiled in 2 smaller batches.
In a large frying pan melt 2 tablespoons of butter over medium-high heat.
Fry gnocchi in butter for approximately 2 minutes until golden brown and transfer to serving dish.
In remaining butter (add butter if necessary) add approximately 10 sage leaves and fry for 1 minute.
Top gnocchi with sage and brown butter sauce and serve immediately, top with parmesan cheese.