Bistro Steak & Mediterranean Potato Medley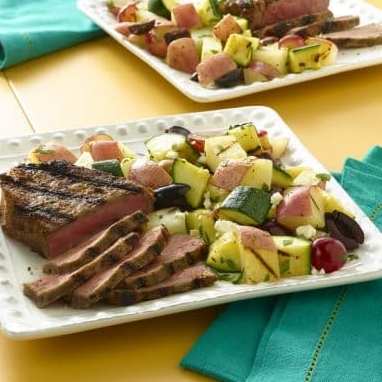 This delectable bistro steak & Mediterranean potato medley will have your guests asking for seconds.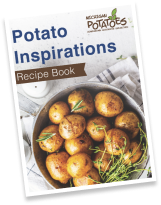 Like this recipe? Want more?
Check out our recipe book.
DOWNLOAD NOW
Categories
Ingredients
Ingredients
2 well-trimmed boneless beef top loin (strip) steaks, cut 3/4 inch thick (6 to 8 ounces each)
1 Tablespoon plus 2 teaspoons olive oil, divided
3 teaspoons Greek seasoning blend, divided
2 large red potatoes cut in 1/2-inch slices
2 zucchini (about 6 inches) cut lengthwise in quarters
1 cup red seedless grapes, halved
1/3 cup pitted kalamata olives, halved
2 Tablespoons chopped Italian parsley
2 Tablespoons crumbled reduced-fat feta cheese
Preparation
Directions
Rub both sides of steaks with 2 teaspoons oil and 2 teaspoons Greek seasoning.

Combine potatoes, zucchini, remaining oil and Greek seasoning in medium bowl; toss gently to coat vegetables.

Place vegetables in grill basket over medium, ash-covered coals 15 to 20 minutes (over medium heat on gas grill) or until cooked but still firm. Place steaks alongside vegetables on grill over medium, ash-covered coals; grill steaks, covered, 7 to 10 minutes (over medium heat on preheated gas grill, covered, 7 to 10 minutes) for medium rare (145°F) to medium (160°F) doneness, turning occasionally.

Remove vegetables and steaks from grill; cut vegetables into 1/2-inch pieces. Carve steak into thin slices.

Combine cooked vegetables, grapes, olives, parsley, and feta cheese in medium bowl; stir gently to combine. Serve steak with potato mixture.