Potato & Steak Kebabs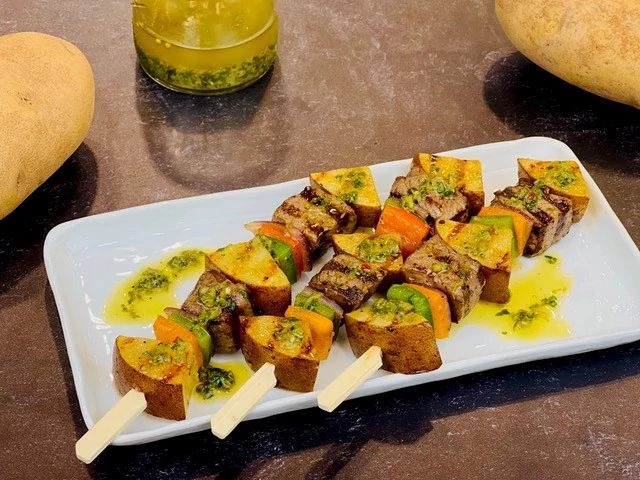 Grilled russet potatoes and steak covered in a fresh chimichurri sauce.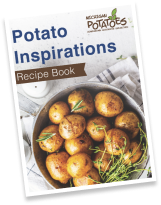 Like this recipe? Want more?
Check out our recipe book.
DOWNLOAD NOW
Categories
Ingredients
Kebabs
2 medium-sized russet potatoes (about 300 grams), cubed
2 quarts (1,892 ml) water
1 pound sirloin steak, cubed
2 Tbsp (30 ml) olive oil
1/2 Tbsp salt
1/2 Tbsp black pepper
1/2 cup red onion, cubed
1/2 cup green bell pepper, cubed
1/2 cup orange bell pepper, cubed
Chimichurri Sauce
1/2 cup (118 ml) olive oil
2 Tbsp shallots, minced
2 Tbsp garlic minced
1 Tbsp Fresno chili, minced
1/4 cup red wine vinegar
1 Tbsp oregano, finely chopped
2 Tbsp parsley, finely chopped
2 Tbsp cilantro, finely chopped
1 tsp salt
Preparation
In a pot, pour water and cubed russet potatoes, bring to a boil, and then reduce heat to a simmer and cook until just fork tender about 20-25 minutes. Then strain and run cold water over to stop cooking process. Set aside.
To make chimichurri sauce, in a bowl, combine shallot, chili, garlic, vinegar and salt and let sit 10 minutes. Then stir in cilantro, parsley, and oregano. Using a fork whisk in olive oil. Then set aside.
Chop red onion, green and orange bell peppers into cubes, roughly same size.
In a bowl, add cubed steak, olive oil, salt, and pepper and mix until steak is coated evenly.
Using a skewer, alternate cool cubed potato, green bell pepper, orange bell pepper, red onion, steak cube until skewer is filled. Then grill skewers until steak is done at 130°F-140°F (54°C-60°C) for medium rare about 3–5 minutes or grill to desired doneness. Rotate skewers to grill both sides.
Lay done skewer on a platter and generously drizzle chimichurri sauce on top and serve immediately.