Grilled Breakfast Pizza with Torn Potato Croutons Arugula, Tomato and Egg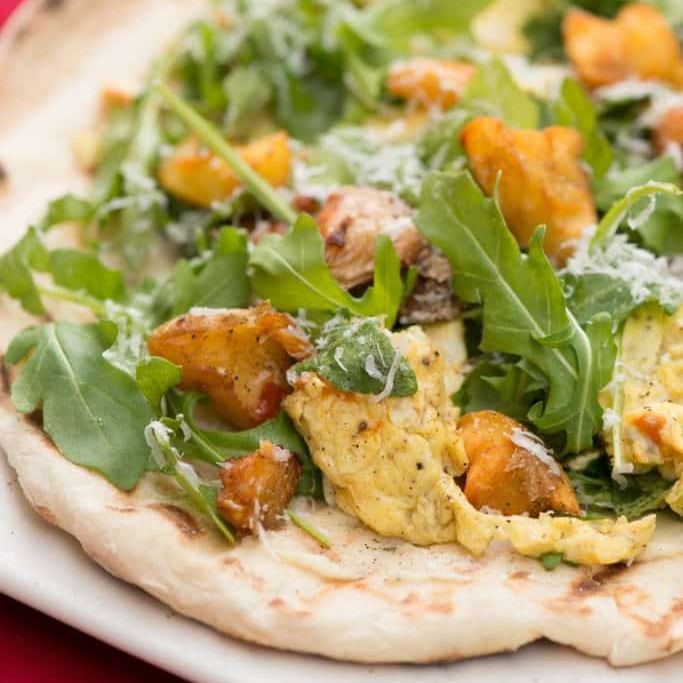 Start your morning with this delightful grilled breakfast pizza with torn potato croutons, arugula, tomato and egg.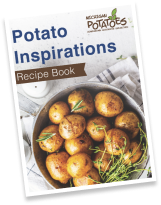 Like this recipe? Want more?
Check out our recipe book.
DOWNLOAD NOW
Categories
Ingredients
12-13 oz. Water, room temperature
1/2 oz. Yeast, dried instant
1.15 lb. Bread flour
3 oz Instant mashed potato flakes
1/2 oz. salt
1.5 oz, Extra-virgin olive oil
1 lb. Boursin or tapenade, or pesto
2 lbs. arugula
1.5 cup sundried tomatoes
15 ea, Eggs, scrambled
1/2 cup Parmesan cheese, grated
3/4 cup Vinaigrette
Torn Potato Croutons
2 lbs. Yukon gold potatoes
1 qt. Canola oil, for frying
Salt and pepper to taste
Preparation
In a mixing bowl, sprinkle the yeast over the water and allow it to disolve and sit till foamy; 5 to 10 minutes.

Mix together the flour and the potato flakes.

Add the dry goods to the yeasted water and mix/knead by hand for 20 minutes or by machine with a dough hook for 10 minutes. Towards the end of mixing, add the olive oil. Cover the dough and allow to rise in a warm spot until doubled. Punch the dough down and divide into 4 ounce pieces. Allow the dough pieces to rest and relax covered till needed. Use within 1 hour or refrigerate for up to a day.

Preheat a grill.

On a floured board, roll the dough pieces into a round that is about 1/8 of an inch thick. Dust any excess flour from the dough and lay it onto the hot grill. When grill marks form, turn the dough 90°F and cook till lightly charred and blistered. Flip the dough and cook the second side. The cooking should only take about 2 minutes total. If it takes longer the dough is likely too thick.

Spread the dough lightly with Boursin/tapenade/pesto as it comes from the grill. Top with a salad or arugula, tomatoes, egg and potato dressed with vinaigrette. Season with salt and pepper and top with a dusting of grated parmesan cheese.

Torn Potato Croutons
Cook the potatoes in boiling salted water until tender and drain.
Tap each potato with a mallet or the bottom of a small sauce pot until the potato cracks.
Tear each potato into ½ – ¾-inch chunks with a craggy irregular shape.
Set these aside to cool and steam dry. Your goal is to create tender pieces of potato with extra surface area.
Heat the oil in a medium pot to a temperature of 375° F and fry the potato pieces in batches until deep golden brown and crispy – about 3 minutes.
Drain the potatoes on an absorbent towel and season with salt and pepper.
Serve immediately or hold warm for up to 30 minutes.