Potato Nachos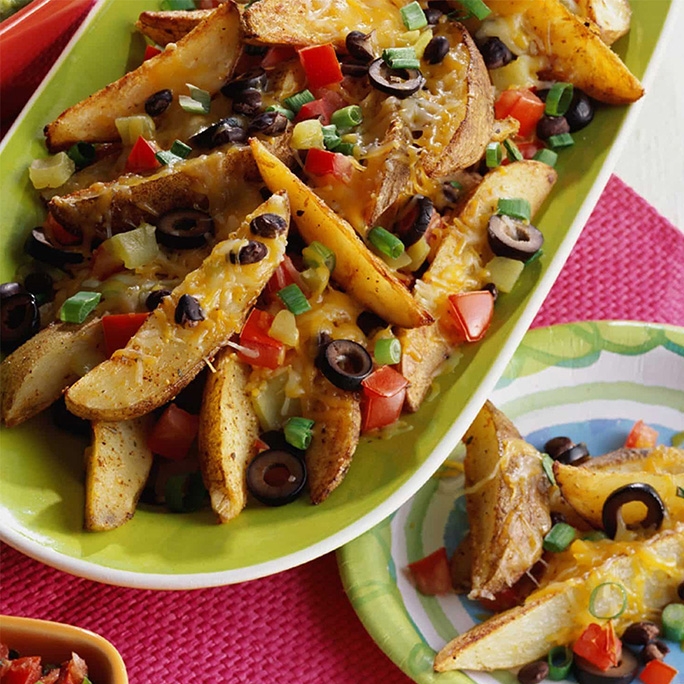 Whether it's for the big game or just a night in, potato nachos are a cheesy, delicious way to spice up your next meal!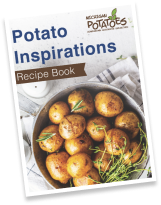 Like this recipe? Want more?
Check out our recipe book.
DOWNLOAD NOW
Categories
Ingredients
1 1/2 lbs. russet potatoes
1 1/2 Tablespoons vegetable oil
1/2 teaspoon garlic salt
1 teaspoon Mexican seasoning blend
1 cup Mexican blend shredded cheese
1/4 cup rinsed and drained canned black beans
1/4 cup diced tomatoes (optional)
1/4 cup sliced black olives (optional)
1/4 cup sliced green onions
3 Tablespoons canned diced green chiles
Salsa, guacamole and sour cream (optional)
Preparation
Preheat oven to 425 °F.
Scrub potatoes and cut into 1/2-inch thick wedges.
Place potatoes into a medium size bowl with the oil, garlic salt and Mexican seasoning.
Stir well to coat potatoes with oil and seasonings.
Transfer to a large baking sheet and spread into a single layer.
Bake for 25 to 30 minutes, stirring several times, until crisp and golden brown.
Top with cheese, beans, tomatoes, olives, onions and chiles.
Bake for 5 minutes more to melt cheese. optional, serve with salsa, guacamole and sour cream.