French Onion Potato Casserole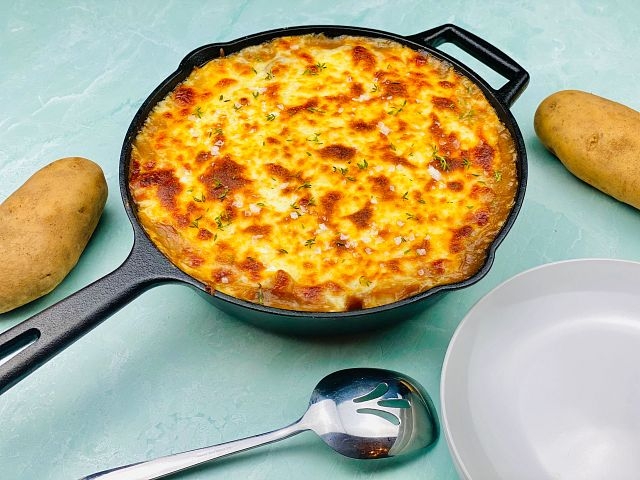 Creamy mashed potatoes topped with caramelized onions, fresh cracked black pepper, and baked until a gooey layer of provolone, gruyere, and parmesan cheese.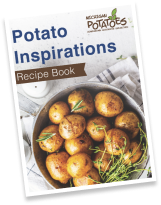 Like this recipe? Want more?
Check out our recipe book.
DOWNLOAD NOW
Categories
Ingredients
6 cups (900 grams) yellow onions, sliced 1/4 inch thick
2 Tbsp (28.4 grams) unsalted butter
2 tsp salt
1/2 Tbsp freshly ground black pepper
1 quart (960 ml) vegetable stock or vegetable broth
2 Tbsp (30 ml) Worcestershire sauce (optional)
1/2 tsp dried thyme
1-1/2 pounds russet potatoes, peeled and diced into 1-inch cubes
8 ounces (226 grams) provolone cheese slices
4 ounces (113 grams) gruyere cheese, grated
1/3 cup (30 grams) parmesan cheese, grated
Preparation
Preheat the oven to 375 degrees F (190 C).
Peel and slice the onions about ¼ inch thick. In a heavy bottomed pot over medium high heat. Melt the butter and add the onions. Cook the onions for 2-3 minutes or until they are slightly translucent. Add the salt and pepper and continue to cook the onions until they begin to caramelize. At this stage its import to stir the onions regularly so they do not burn. Once the onions take on an even dark brown color (about the color of milk chocolate and should take about 20 minutes) add the vegetable stock, Worcestershire sauce, and thyme, scraping the bottom of the pan to release any caramelized flavor. Reduce the heat and allow the sauce to simmer for about 5 minutes.
Stir in the diced potatoes and remove from the heat.
Spray a piece of aluminum foil with nonstick spray. Place the foil (oiled side down) over the casserole and place in the preheated oven for 25 minutes. Remove the aluminum foil and arrange the cheese in the following order: take half the provolone slices and arrange them on the top in an even layer, follow with the shredded gruyere, grated parmesan, and another layer of the provolone (off set the provolone so the second layer fills any gaps from the first). Bake the casserole for an additional 10-12 minutes or until the cheese is bubbly, potatoes are tender, and the top is golden brown.
Remove the casserole from the oven and garnish with the fresh thyme and flakey salt, if desired.