Stand Up Cheesy Hasselback Potatoes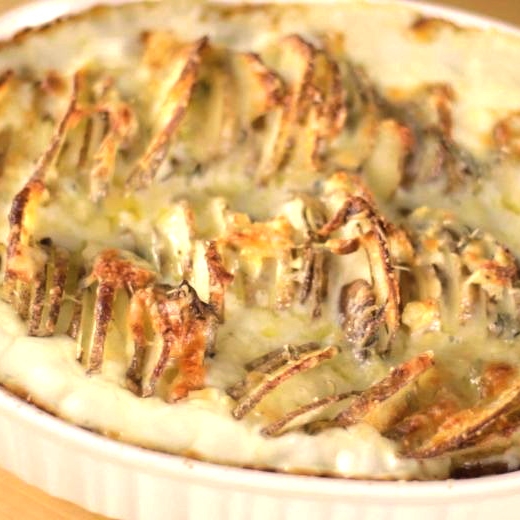 Try this delicious twist on a French classic for a satisfying side you'll want again and again.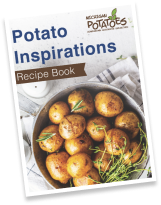 Like this recipe? Want more?
Check out our recipe book.
DOWNLOAD NOW
Categories
Ingredients
3 ounces finely grated Gruyère
2 ounces finely grated Parmesean cheese
2 cups heavy cream
2 medium cloves garlic, minced
1 tablespoon fresh thyme leaves, finely chopped
Kosher salt and black pepper
3 to 3 ½ pounds Michigan russet potatoes, sliced 1/8-inch thick
2 tablespoons unsalted butter
Preparation
Preheat oven to 400 degrees.
In a medium sized bowl finely grate Gruyère and Parmesan cheese, transfer 1/3 of the cheese and set aside.
Finely chop garlic and thyme, add to cheese mixture.
Add cream to cheese and herbs, mix to combine, salt and pepper to taste.
Slice Michigan Russet potatoes approximately 1/8" thick on a mandolin slicer, add to cream mixture and toss well to coat.
Grease a 2qt casserole dish with butter.
Pick up a handful of potatoes, organizing them into a neat stack, and lay them in the casserole dish with their edges aligned vertically, making sure they are tightly packed in the dish.
Pour remaining cream and cheese mixture over the top of the potatoes until the dish is approximately half full. You may have some leftover cream.
Top with remaining cheese and bake covered with foil at 400 degrees for 30 minutes. Remove foil and bake for an additional 30 minutes. Let cool for approximately 10 minutes.