Roasted Rosemary Michigan Red Potatoes
Simple oven roasted rosemary potatoes with crispy outsides and fluffy, tender insides are a delicious, easy side dish to go with any dinner!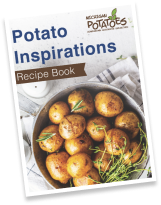 Like this recipe? Want more?
Check out our recipe book.
DOWNLOAD NOW
Categories
Ingredients
3 cups Michigan red potatoes, halved into uniform pieces
1/2 teaspoon garlic powder
1/2 teaspoon kosher salt
1/2 teaspoon freshly cracked black pepper
2 Tablespoons fresh rosemary
3 Cloves Garlic (Minced)
2 Tbsp Olive Oil
Preparation
Directions
Heat oven to 425°F. Place cast iron skillet in the oven to preheat. If using a baking sheet do not preheat in the oven.
In a large bowl, toss potatoes with oil, garlic powder, salt, pepper, garlic, and rosemary. Spread potatoes in a single layer onto a prepared baking sheet, or in preheated skillet.
Roast for about 20-25 minutes, stirring halfway through, or until potatoes are tender.
Remove from the oven and serve immediately.