Pommes Dauphine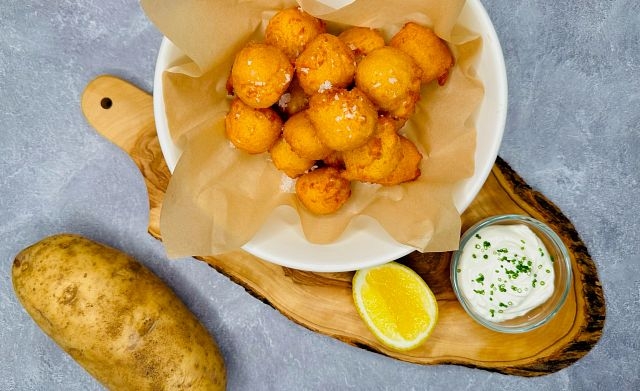 A great way to use leftover mashed potatoes, Pommes Dauphine is a combination of mashed potatoes and choux paste, formed into quenelles or balls and deep fried.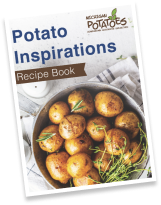 Like this recipe? Want more?
Check out our recipe book.
DOWNLOAD NOW
Categories
Ingredients
Mashed Potatoes
1 pound russet potatoes
2 quarts (1,892 ml) cold water
2 tsp salt
2 Tbsp butter, melted
1 tsp black pepper
Choux Paste
1/2 cup (118 ml) milk
3 Tbsp butter, cut into cubes
1 tsp sugar
1/2 tsp salt
2-1/2 (64 g) all-purpose flour
2 eggs
Preparation
For Mashed Potatoes
Rinse potatoes, peel, and dice into cubes, and hold in cold water.

In a large pot, add cold water and potatoes, turn on the heat and bring to a boil then reduce to a simmer and cook for about 20-25 minutes until potatoes are fork tender.
Drain potatoes, place in a large bowl, cool slightly and mash potatoes, add in melted butter, salt, and black pepper. Mix until fluffy and fully incorporated.
For Choux Paste
In a medium saucepan or pot combine milk, butter, sugar, and salt.
Turn on the heat to high and cook liquids until the butter is fully melted and is just at a boil. Then remove from heat and add flour. Using a wooden spoon, mix until there are no more lumps.
Then return to stove top at medium heat and cook, while continuously stirring till the dough gets to 175°F or until a thin starchy film forms all over the bottom of the pan or pot as the dough comes together as a ball. Transfer dough to a stand mixer bowl.
Attach stand mixer bowl to the stand mixer and fit with a paddle attachment and turn on to medium speed. Beat dough until dough reaches 145°F or until cool enough that eggs don't cook when they hit the dough.
Add the eggs one at a time until fully incorporated. Scraping mixer in between until it forms into a shiny paste.
To Make Pommes Dauphin
In a large bowl, mix mashed potatoes and choux paste until fully incorporated.
In a large pot, add oil for frying and heat to 340°F. Using a 1oz scoop, scoop dough and carefully drop it into hot oil and deep fry for 3½ minutes until all sides are light golden brown. Then using a slotted spoon or skimmer, spoon out the deep-fried dough and transfer it to a serving dish. Repeat the steps until the dough is finished.

Serve immediately.