Parmesan Potato Stacks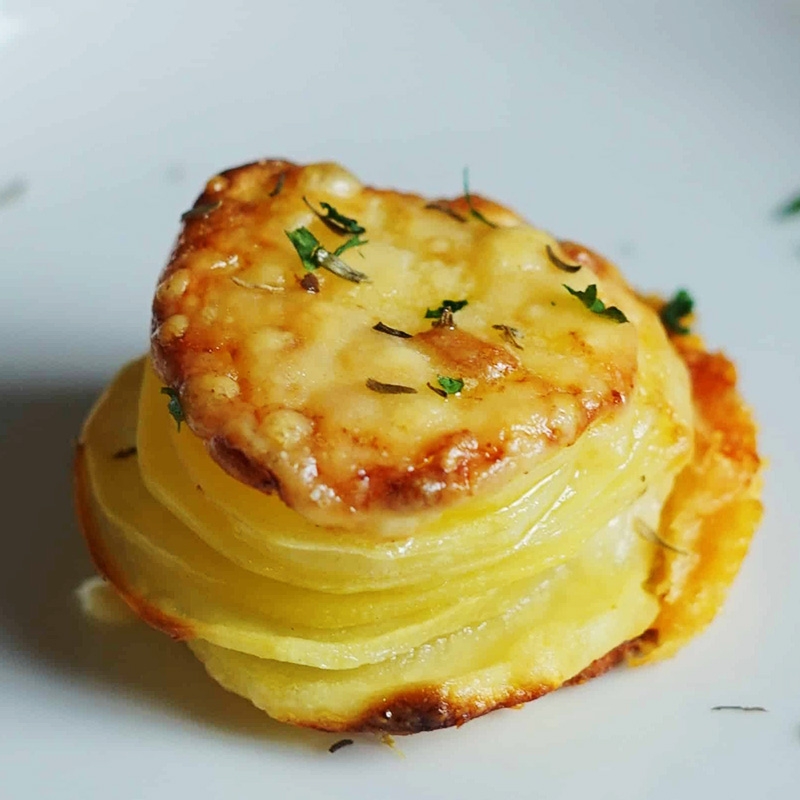 A simple side dish packed with flavor! Michigan Yellow potatoes are thinly sliced and layered with a garlic cream sauce, parmesan, and asiago cheese, baked in a muffin tin!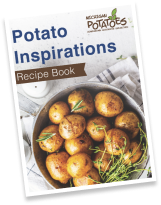 Like this recipe? Want more?
Check out our recipe book.
DOWNLOAD NOW
Categories
Ingredients
2 lbs. Michigan yellow potatoes
½ cup Asiago cheese (shredded)
¼ cup Parmesan cheese (shredded)
3 Tablespoons butter (melted)
½ cup heavy whipping cream
1 teaspoon thyme
3 cloves garlic (minced)
1/3 teaspoon salt
1/8 teaspoon pepper
Preparation
Preheat oven to 350 °F and spray muffin tin with oil. Set aside.
Peel potatoes and cut into cylinders that will fit inside the muffin tin.
Slice potatoes thinly with a knife or use a mandolin set to slice 1mm.
In a small mixing bowl, combine melted butter, heavy whipping cream, thyme, garlic, salt, and pepper. Mix until well combined.
Place potato slices into muffin tin so that they go halfway up.
Pour 1 teaspoon of the butter mixture on top with 1 teaspoon of asiago. Fill the muffin tin up to the top with more potato slices. Pour the rest of the butter mixture on top and cover with aluminum foil before placing in oven.
Bake for 40 minutes before removing aluminum foil and topping with parmesan.
Bake for 10 more minutes before removing from oven and serving.