Smoky Potato Burnt Ends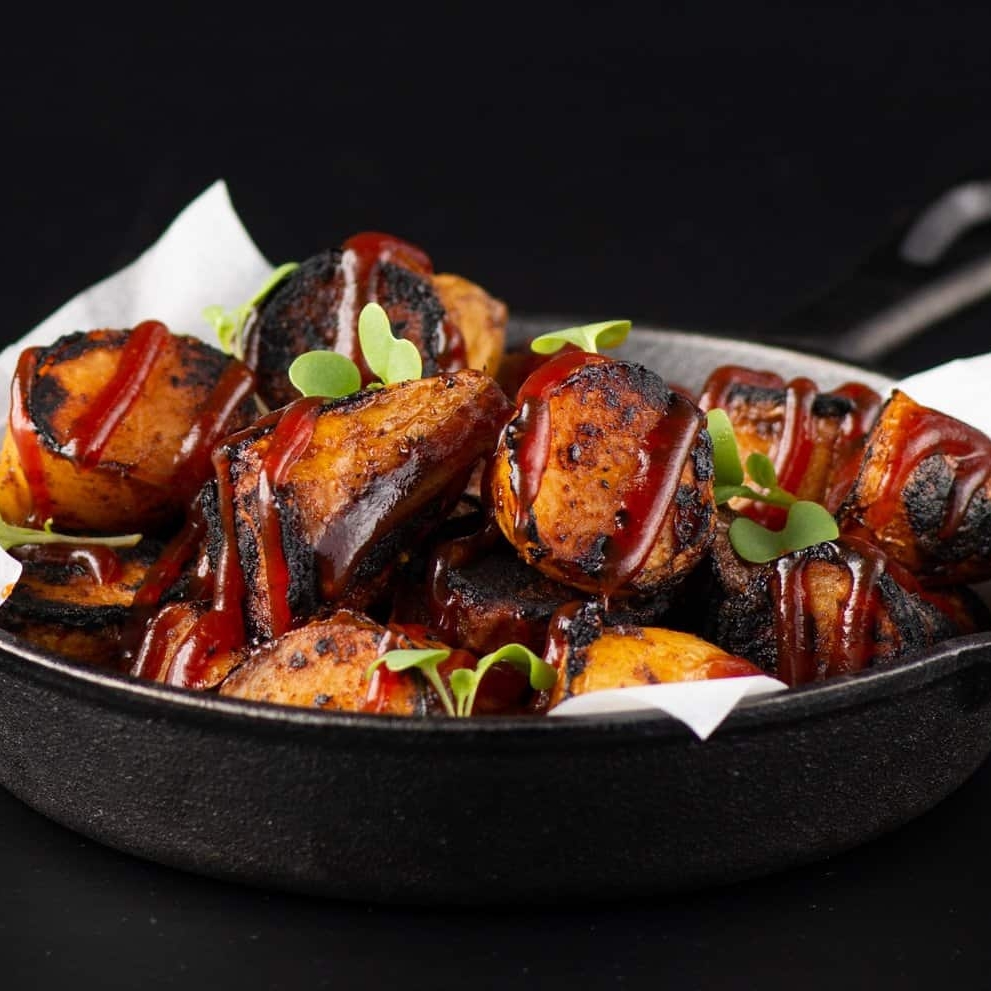 Tender and creamy fingerling potatoes tossed in a sweet and slightly spicy BBQ dry rub containing smoked paprika, cumin, garlic, and brown sugar. Roasted in the oven and drizzled with barbecue sauce, the perfect side dish to an outdoor get together or a wonderful vegetarian entrée.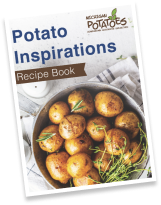 Like this recipe? Want more?
Check out our recipe book.
DOWNLOAD NOW
Categories
Ingredients
Burnt End Potatoes
2 lbs. fingerling potatoes, cut in half vertically
3 garlic cloves
1 tablespoon kosher salt
1/2 lemon
1 sprig fresh thyme
1 tablespoon Liquid smoke
3/4 cup BBQ dry rub (recipe below)
3 tablespoons vegetable oil
1 cup BBQ sauce
1/4 cup green onions, sliced
BBQ Dry Rub
4 cups brown sugar
1 cup granulated sugar
1/2 cup kosher salt
2/3 cup chili powder
1 cup smoked paprika
1/2 cup black pepper
1/4 cup cumin
1/4 cup granulated garlic
1/4 cup onion powder
1 - 1/2 tablespoons cayenne pepper
Preparation
In a large pot add the potatoes and cover with cold water. Add the garlic, salt, thyme, and liquid smoke.
Bring the water to a boil and reduce to a simmer, cook the potatoes until they are just fork tender (About 30 minutes).
Remove from the heat, drain, and discard the lemons, garlic, and thyme. Allow the potatoes to cool slightly while the dry rub is prepared. *you will not need the whole batch of dry rub*
Toss the potatoes with the vegetable oil gently so they do not break up. Sprinkle the dry rub on the potatoes liberally.
Arrange the seasoned potatoes on a baking sheet lined with parchment paper or aluminum foil. Place the potatoes in a 375-degree oven for 45 minutes or until they are nicely caramelized and golden. Remove the potatoes from the oven and allow to cool for 3-5 minutes before serving.
Place the potatoes on a serving dish and drizzle them with your favorite BBQ sauce. Garnish with chopped green onions and enjoy.