Light and Loaded Baked Potato Soup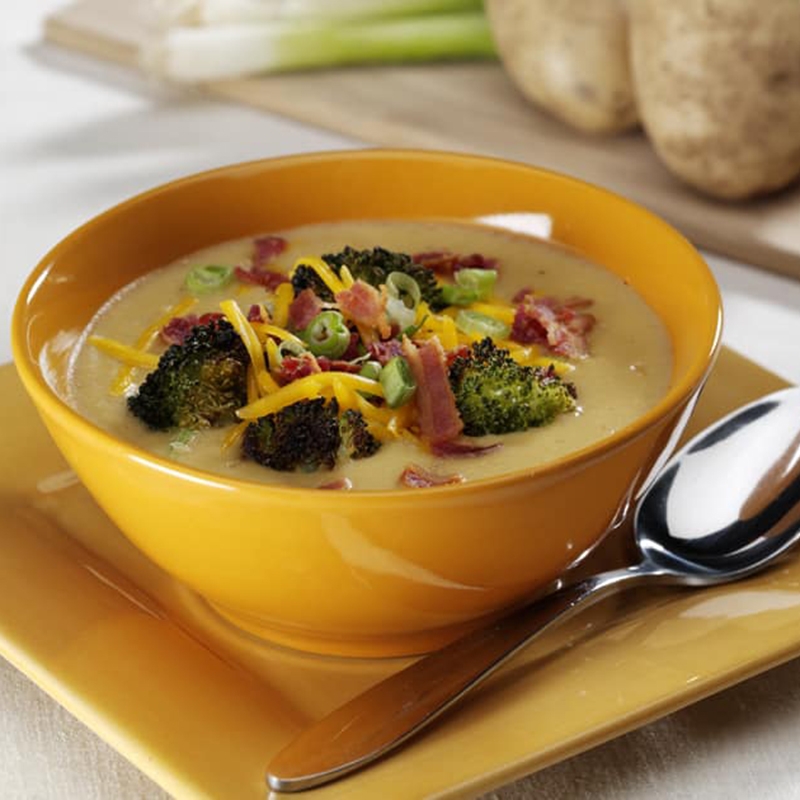 Looking for a loaded baked potato soup with less calories, but all of the flavor? This is the perfect soup for you!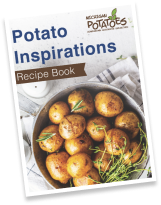 Like this recipe? Want more?
Check out our recipe book.
DOWNLOAD NOW
Categories
Ingredients
6 medium white potatoes, diced
8 ounces (or 2 ½ cups) frozen cauliflower
1 head broccoli, chopped into bite-sized pieces
1 leek, washed and chopped thinly
2 teaspoons olive oil, divided
1/2 teaspoon crushed red pepper
1 1/2 teaspoon chopped garlic, divided
2 cups low-sodium vegetable broth*
2 cups 2% milk
3/4 teaspoon kosher salt
5 ounces reduced-fat sharp cheddar cheese*, for topping
5 slices center-cut bacon, microwaved and crumbled for topping
Chives, chopped for topping
Preparation
Preheat oven to 425 degrees F.
Fill large pot with potatoes and salted water. Bring to a boil over high heat and cook until potatoes are fork tender, about 15 minutes. When potatoes have finished cooking, drain water and set potatoes aside in bowl or colander.
While potatoes are cooking, line rimmed baking sheet with parchment paper. To prepare broccoli, remove bottom part of stem, and slice into bite-sized florets leaving an inch of the stem intact. Place broccoli on prepared baking sheet, lightly drizzle with 1 teaspoon olive oil and sprinkle with pinch of salt and ½ teaspoon garlic. Roast in oven for 20 minutes until crispy.
Heat 1 teaspoon olive oil over medium heat. Sauté leeks, crushed red pepper, and garlic until leeks soften, about 1-2 minutes. Add cauliflower and vegetable stock, increase heat to medium-high and cook until cauliflower is soft. Remove pot from heat, and add potatoes, milk, and ½ teaspoon salt.
Using an immersion blender, (or transfer soup to regular blender), puree soup until smooth and creamy.
To serve, ladle one cup of soup into a bowl and top with cheese, bacon, chives, and roasted broccoli. Enjoy! Makes 10 servings.
Note: Boil or microwave broccoli for the topping if you don't want to fire up your oven for roasted broccoli.