Lemon and Sage Potatoes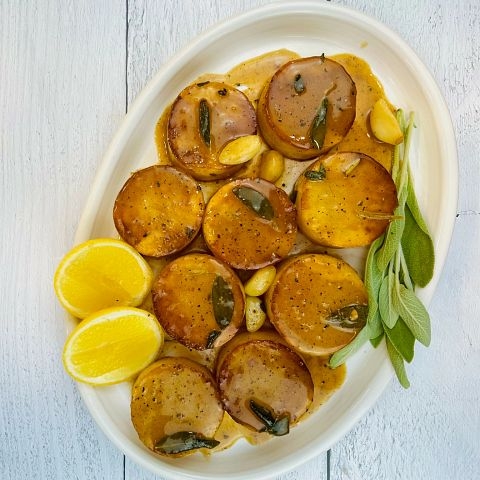 Fondant potatoes served with a zesty sage butter sauce.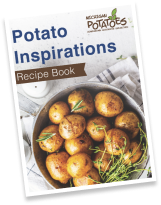 Like this recipe? Want more?
Check out our recipe book.
DOWNLOAD NOW
Categories
Ingredients
2 pounds yellow potatoes
2 Tbsp vegetable oil
3 Tbsp butter
4 cloves garlic
6 sage leaves
3/4 cup vegetable stock/broth
1/4 cup lemon juice
1 tsp lemon zest
1 Tbsp salt
1 Tbsp ground black pepper
Preparation
Preheat oven to 425°F (218°C).
Slice potatoes on each side lengthwise to create a thick plank and using a metal ring cutter or round cookie cutter, stamp out yellow potatoes to form a puck-like shape. Then hold in cold water.
In an oven-safe, nonstick frying pan or skillet, turn on the heat to medium-high, and add vegetable oil and brown potatoes on each side 2-3 minutes.
Then add butter, garlic, and sage, using a spoon baste potatoes, until butter lessens in bubbling, and it smells nutty and starts to brown about 1-2 minutes.
Then add stock, lemon juice, and lemon zest. Using a wooden spoon, slowly whisk to remove caramelized bits from the bottom of the pan. Cover pan with aluminum foil and place potatoes in the oven and roast for 30 minutes.
Remove potatoes from oven and let cool slightly. Serve.