Kettle Chip Chocolate Chip Cookies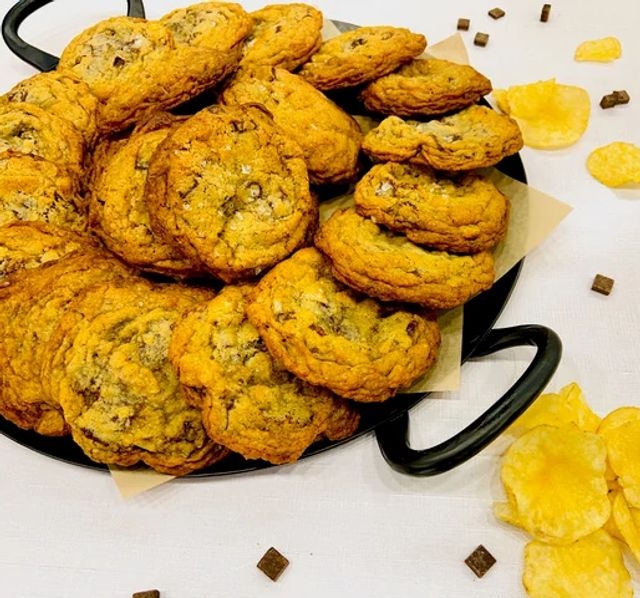 Classic comforting chocolate chip cookies loaded with salted kettled chips. The perfect balance between sweet and salty.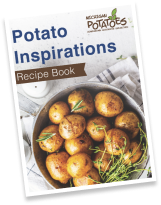 Like this recipe? Want more?
Check out our recipe book.
DOWNLOAD NOW
Categories
Ingredients
1/4 cup plus 3 Tbsp (100 grams) granulated sugar
1/2 cup plus 1 Tbsp (110 grams) light brown sugar
1-1/2 tsp (9 grams) sea salt
3/4 cup (168 grams) unsalted butter
1 large whole egg
1 egg yolk (18 grams)
2 tsp (10 milliliters) vanilla extract
1 cup plus 3/4 (280 grams) all-purpose flour
1/2 tsp (2 grams) baking soda
1/2 cup (112 grams) dark chocolate chips
1/2 cup (112 grams) lightly salted kettle chips, crushed
Preparation
Preheat oven to 350°F (176 C)
In a large bowl, add flour, baking soda, and salt and whisk together. Set aside.
In a small bowl, add eggs, egg yolk, and vanilla extract. Set aside.
In a stand-up mixer using a paddle, add room temperature butter, brown sugar, and granulated sugar and mix until smooth and creamy. Use a large bowl and a spatula or wooden spoon if you do not have a stand-up mixer and mix by hand.
Slowly add in your egg vanilla extract mixture until fully incorporated, scraping down sides as needed.
Add in flour, baking soda, and salt. The mixer should be off before pouring in dry ingredients. Start off with the lowest setting and gradually increase the speed until the dough is just combined. Turn off the mixer and scrape well.
Add in chocolate chips and kettle chips, mix until fully incorporated.
Then using a 2-ounce scoop, scoop cookie dough onto parchment paper or silicon pad-lined baking tray evenly spread. Place the tray in the freezer for 10 minutes.
Place one tray at a time in a 350°F (176°C) preheated oven for 10-12 minutes or until light golden brown.
Remove the tray, let cool and enjoy.