Herbed Sheet Pan Potatoes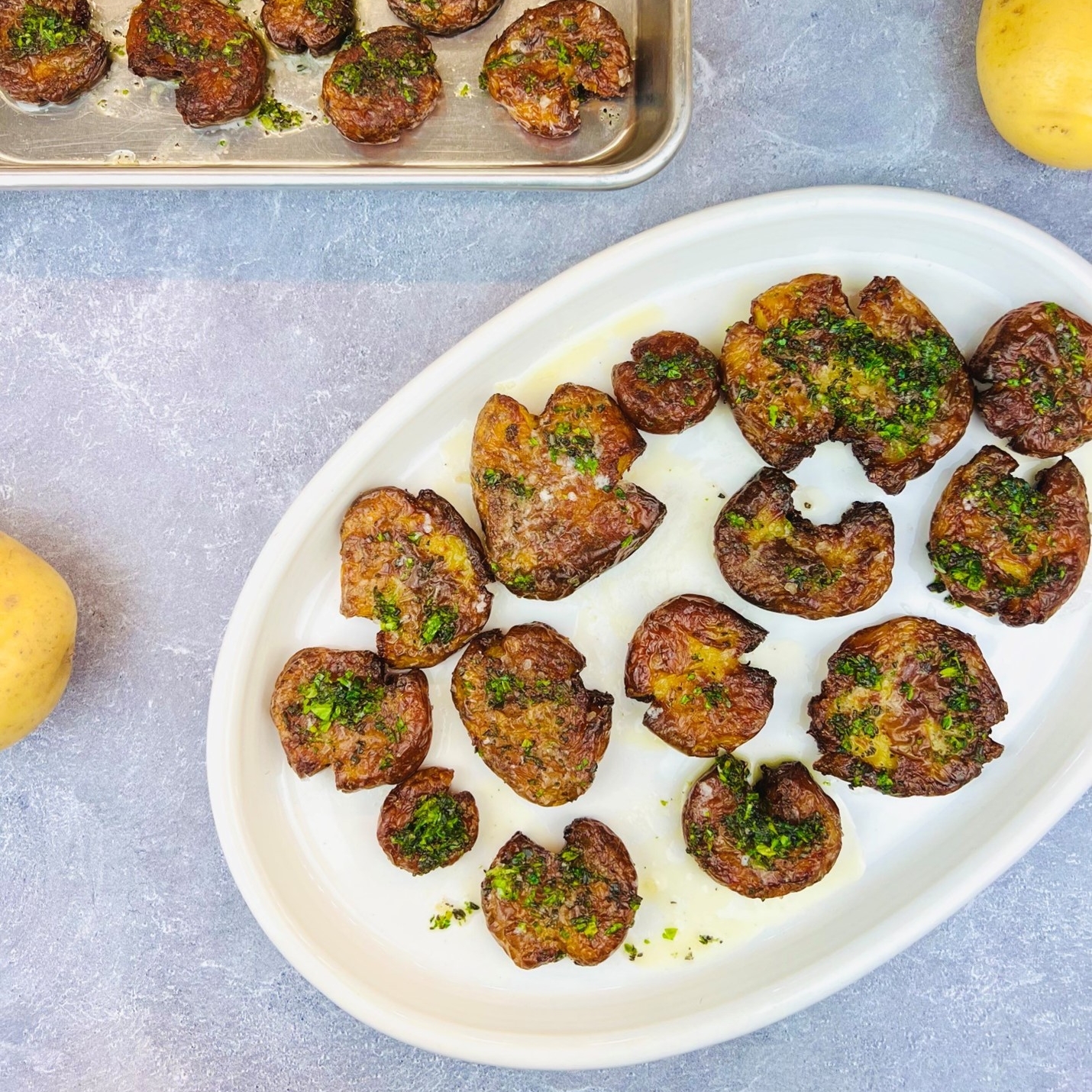 Roasted baby yellow potatoes crisped to perfection drizzled with a fresh herbed melted butter.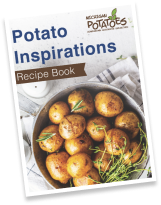 Like this recipe? Want more?
Check out our recipe book.
DOWNLOAD NOW
Categories
Ingredients
24 oz (680 g) Baby Yellow Potatoes
1 qt (946 ml) Vegetable Stock
1 each (58 g) Whole Lemon (sliced)
3 cloves (12 g) Garlic (crushed)
¼ cup (59 ml) Unsalted Butter (melted)
1 tsp (1 g) Thyme (fine chop)
1 tsp (1 g) Rosemary (finely chopped)
1 tsp (2 g) Parsley (finely chopped)
¼ cup (59 ml) Olive Oil
½ tbsp (8 g) Salt
½ tbsp (3 g) Black Pepper
Preparation
Preheat oven to 400°F (204°F)
In a heavy bottomed pot, add in baby yellow potatoes and vegetable stock, garlic, and lemon. Bring to boil and reduce heat to a simmer and cook for 30 minutes or until fork tender.
In a small pot or microwave safe bowl, melt butter and add in thyme, rosemary, parsley, and mix. Set aside.
Drain baby yellow potatoes with strainer and shake off excess liquid. Place potatoes on sheet tray or baking sheet and using a flat-bottomed surface like the bottom of a mason jar, crush baby yellow potatoes to flatten until ½ inch thick. Drizzle olive oil and evenly coat potatoes.
Place tray in oven at 400°F (204°C) for 8-10 minutes then flip potatoes and roast for another 8-10 minutes or until golden brown and crispy.
Remove tray and season roasted potatoes with salt and pepper.
Place roasted seasoned potatoes on a serving platter/dish and spoon melted herbed butter over potatoes. Serve immediately.