Garlic Parmesan Fries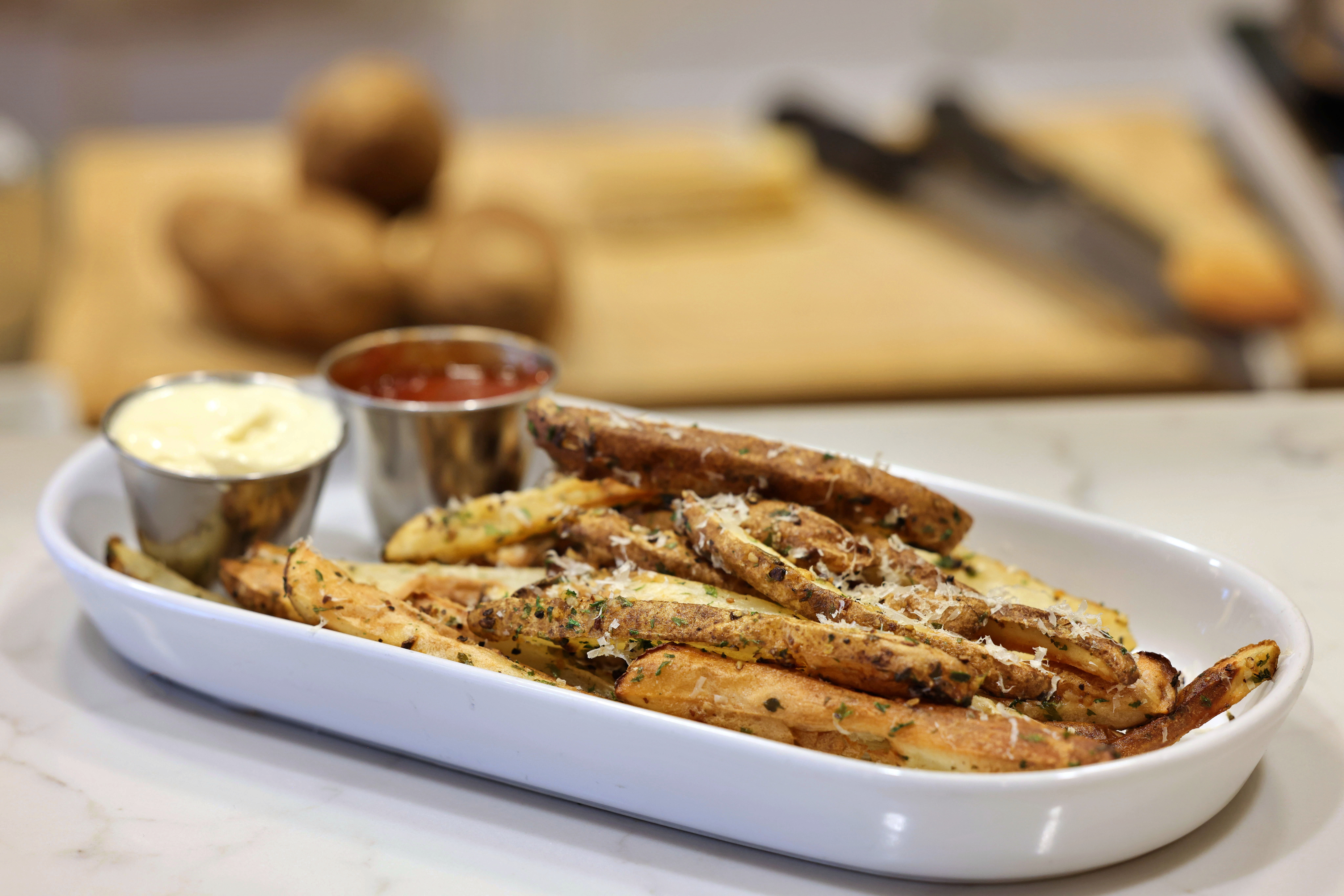 This delicious and easy recipe is savory and salty with parmesan cheese and garlic butter. Follow the ingredients exactly for a vegan and gluten-free version, or you can use the substitute ingredients for non-vegan.
Ingredients
Fries
4-5 Michigan russet potatoes
1/4 cup arrowroot (or cornstarch)
1 tsp pink Himalayan sea salt (regular salt is also fine)
1 tsp coarse black pepper
1 bundle parsley, chopped
1-2 Tbsp minced garlic
Vegan parmesan (or regular parmesan cheese for non-vegan recipe)
Parchment paper
Olive oil spray
Garlic Butter
8-10 cloves garlic, minced
5 Tbsp plant-based butter (or regular butter for non-vegan version)
Preparation
Preheat oven to 400 F. Wash Michigan potatoes. Slice them into 1-inch-thick slices, and then slice again into fries (leave skin on). Give the raw fries an ice bath and then dry off the excess water.
Place fries into a bowl, cover them with arrowroot (or cornstarch, if using), garlic, parsley, and seasonings. Once the fries are seasoned, grab a cookie sheet and line with parchment paper. Spray the parchment paper with the olive oil spray so that the fries don't stick. Once this is done, lay fries across the parchment paper and spread them out flat and even. Place the pan in the oven for about 25 minutes.
While the fries are cooking, melt the butter in a pan over low heat with the garlic. Make sure to use low heat, we just want the butter to melt.
After the fries are cooked and crispy to your liking, place in a bowl and coat with the garlic butter. Mix well to make sure they're evenly coated. Grate fresh parmesan on to the fries and toss them back into the oven for 2-4 minutes. Remove from oven and enjoy!