Baked Potatoes with Beef and Broccoli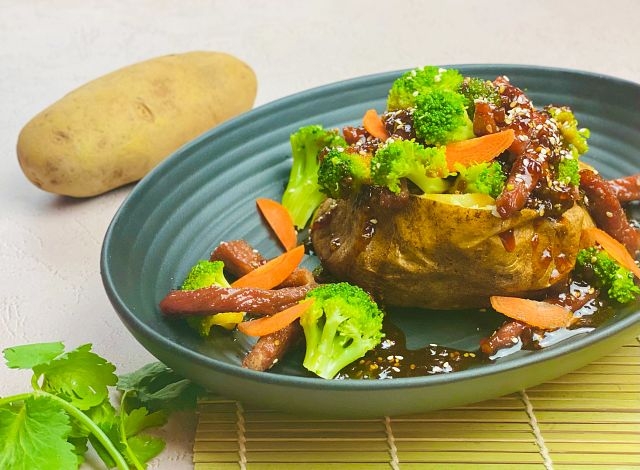 Beef and broccoli stir fry and baked potatoes are each great on their own. Combining them creates a delightful, healthy, and filling meal.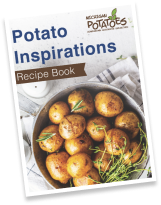 Like this recipe? Want more?
Check out our recipe book.
DOWNLOAD NOW
Categories
Ingredients
4 medium-sized russet potatoes (about 5.3 ounces each)
3 Tbsp vegetable oil (1 for outside of potatoes, 2 for stir fry)
2 tsp kosher salt
1 pound beef sirloin, cut into strips about 1/4-inch thick
4 cups fresh broccoli florets
1/2 cup carrots, cut into half moons about 1/4-inch thick
3 Tbsp cornstarch
2 Tbsp cold water
1/3 cup (80 ml) reduced sodium soy sauce
1/2 tsp garlic powder
2 Tbsp brown sugar
1 tsp ground ginger
1/2 cup (120 ml) beef stock or beef broth
Sesame seed (optional)
Preparation
Preheat oven to 400 F (204 C).
To prepare the baked potatoes, pierce the potatoes with the tines of a fork or the tip of a knife. Place the potatoes into the oven directly on the oven rack. After about 40 minutes of cooking, remove the potatoes and brush them evenly with the vegetable oil. Sprinkle them with the kosher salt and return them to the oven for about 5 minutes. This will crisp the skin. The best way to check the potatoes for doneness is with an internal thermometer. The temp should read 205 F (96 C) remove the potatoes from the oven and keep warm.
To prepare the stir fry, combine the 2 Tbsp of the cornstarch with the water and garlic powder in a medium bowl. Add the beef sirloin and toss to combine, allow the meat to sit for about 10 minutes. The beef stir fry can be made while the potatoes bake in the oven.
In a large skillet over medium-high heat, heat the vegetable oil and begin to sear the beef. Stir the beef often but not so often that it doesn't brown. Cook the beef until the desired doneness is achieved. Remove the beef and keep it warm. Add the broccoli and the carrots to the pan and cook for 3-5 minutes or until the broccoli is tender but still green.
Add the cooked beef to the pan with the broccoli and carrots. In a container combine the soy sauce, brown sugar, ginger, and cornstarch slurry to the pan. To make the cornstarch slurry combine the beef stock with the 1 Tbsp of the cornstarch and whisk to combine. Once the sauce thickens in the pan, turn off the heat and get ready to serve.
To serve the baked potatoes, cut down the center of each potato lengthwise, press the potato on both ends to "fluff" the potato. Once the potato is open, you can spoon some of the beef and broccoli stir fry into each potato. Sprinkle with sesame seeds if desired and serve right away.